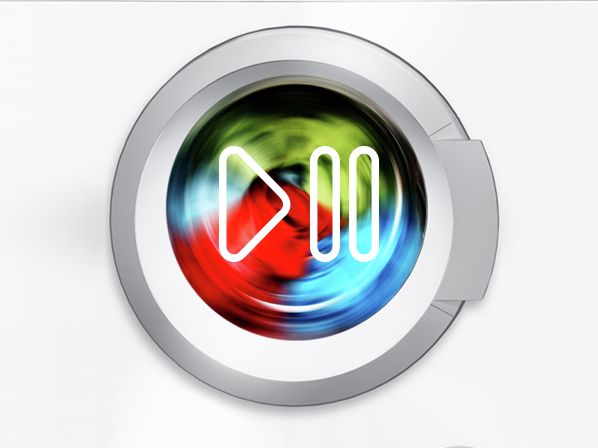 Bosch Reload: Open the door to total convenience
Adding or removing items mid-cycle couldn't be easier with a Bosch Reload washing machine.
Just press the Start Reload button and the washing machine will check whether it's safe to open. If the machine is in the middle of a wash it will stop, drain and then safely unlock – all in a few seconds.
Explore washing machines with Bosch Reload
Bosch innovations are designed to make life better. Whichever Bosch washing machine model you choose, Reload is included as standard.
Bosch know how to get it right!
I purchased this washer 2 weeks ago and I haven't been disappointed. From the LED lit up drum at the start to the end of cycle tune , its PERFECT! Wi-Fi was easy to set up following the instructions and I have even saved my favourite programme with the handy star symbol on the front of the washer. The washing machine is so quiet, even on the final spin that I find myself having to check to see if it has actually finished. The i-dos facility is just what I needed being a busy mum of 4 children, one less thing to do is always going to keep me happy. We have found that even after doing umpteen washes in the past 2 weeks, we still haven't topped up the dispenser, which proves its saving money too. Clothes are coming out fresh, clean and actually smelling better! With the added bonus of a 5 year guarantee and the Cashback offer , this machine is well worth every penny!
Washing made easy
Absolutely love my new Bosch washing machine. It's easy to use, has many programs which can be altered to suit your own personal needs and is so quiet even during its final spin! The loudest part of this machine, is the bleep at the end to tell you the cycle is over. You don't have to wait 2 minutes either to get the door open! Love the fact it will do a short wash (15 or 30 minue wash) for lightly soiled items. All in all, really delighted I chose this machine.
washing machine
Noisy on the the spin cycle supposed to be quiet
Very happy
I had to order a new washer in a hurry as going on holiday and my old one stopped working. There are so many choices and different ways of washing these days it can be confusing . I knew I needed speed and hand wash, both these available on this model. I feel I've made a great choice, it has all the programmes I need and is very quiet. One nice touch is a plastic 'shield' that fits into the drawer and retains washing liquid prior to starting the programme.
Bit too complicated
I wanted a standard bosch washing machine to replace my old one. This was the standard version i got from my trusted dealer, but it looks a bit space age and is a bit too fidly. It doesnt have a standard 30 degree wash cycle, doesnt have a clear on/off switch (the touch panel feels flimsy) and has an oversized door on the front which makes much more of a 'feature' in the kitchen than anyone wants out of a washing machine. Does the job ok but woudnt buy again.
Find your nearest Bosch Reload washing machine stockist
Simply enter your postcode to find your nearest Bosch Reload stockist, where you can see the appliances for yourself and get expert advice on the right washing machine for you.