Cordless vacuum cleaners
Feel the freedom with a cordless cleaner. Bosch cordless vacuum cleaners are powerful, lightweight and agile to deliver maximum performance and convenience on whatever floor surface you have. Bosch cordless vacuum cleaners include models with interchangeable battery packs for continuous run-time and models designed especially to cope with pet hair.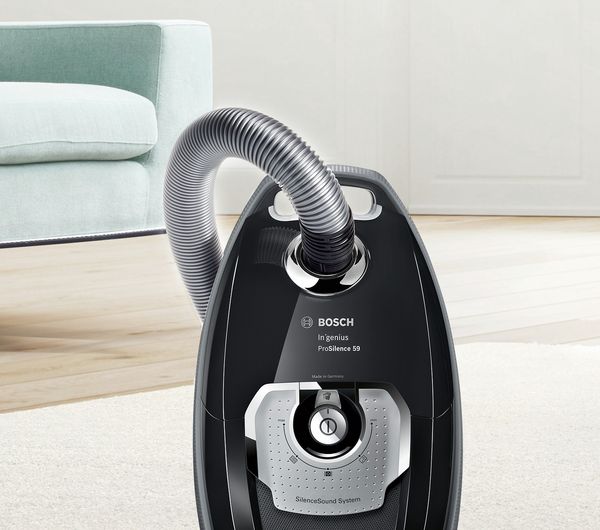 Bagged vacuum cleaners: Outstanding performance and greater convenience.
For any challenge that your home can throw at a vacuum cleaner: Incredibly powerful, or compact and agile, or extremely flexible with an extra wide range – with its large selection of bagged vacuum cleaners, Bosch has the appliance to suit your needs. And using original Bosch vacuum cleaner bags ensures more effective, longer-lasting cleaning and a longer working life for your appliance.
Get the best performance from your vacuum cleaner with the new PowerProtect Dustbag.
Original vacuum cleaner bags will make sure you get the best performance from your vacuum cleaner. PowerProtect dustbags offer a particularly high suction power for low- as well as high-wattage appliances, even if the bag fills up. For maximum hygiene, PowerProtect dustbags filter 99.9% of fine dust particles and the practical hygiene lock ensures clean disposal. In addition, the PowerProtect dustbag efficiently protects your vacuum cleaner's motor, giving it a longer working life.
Thoroughly tested. Thorough cleaning.
To make sure that our vacuum cleaners also meet the highest quality standards, we make things tough for them: Before our canister vacuum cleaners are released for series production, they are switched on and off 45,000 times in our switching test. And the floor nozzles also have to have incredible staying power in fatigue tests covering lots of kilometres. These tough endurance tests produce a remarkable result: uncompromising quality, an outstanding cleaning performance and absolute reliability.