Voice-controlled cooking
We've all had those frustrating moments where you really should go and turn the oven on but what you're watching is just unmissable. There's no need to feel left out of the action. Home Connect lets you take control of your oven's settings from wherever you are. A few taps on the app and the oven is on, all without the need for you to leave your chair.
And if you have Amazon Alexa, it's even easier. Just speak your commands and Alexa will confirm the oven is heating at your desired temperature. Hands free cooking!
Recipes
Meal planning has never been easier. Browse the Home Connect Recipe Book from your favourite armchair. When you've made your choice, simply send all the settings from the app directly to your oven so it's ready to go when you are.
The range of recipes are all tried and tested by Bosch Home Economists around the world, so you'll find exciting new flavours alongside old family favourites. New and seasonal recipes are added on a regular basis, so you'll never be stuck for what to eat.
Remote delayed start
Want your dinner ready when you arrive home? That's no problem with Home Connect. Simply put your food in the oven before you go out and set the oven to start later in the day so it's ready just as you come back through the front door.
But what if you're delayed while you're out? That's fine. You can simply adjust the start time from wherever you are and, if the food has already started cooking, you can simply press "pause". The oven will lower the temperature until you start it again so your meal isn't ruined.
See what other customers say about Home Connect models
DADS BACK IN THE OVEN... again
So i decided to try out this BOSCH oven in my new 2 bedroom flat. I did not decide to read the instructions but instead went straight to popping the grill. But there was 1 problem... WHERE IS THE GRILL. I understand that this oven might look better mounted in a wall and therefore has no grill. BUT MY KITCHEN DOESN'T HAVE WALLS! I really think that BOSCH should take this into consideration before releasing these products. Anyway, after finding out there wasn't a grill i read the instructions. My dad came over and helped me install my new google home device as I read that you could link the oven with voice commands. One day when my dad was using the oven, he accidently told google "SHUT THE OVEN" as he was taking the food out. Long Story Short the oven engulged him and hes stuck in there. Overall 11/10 would buy again.
Rotary control
With regards to romiem comments about the rotary controller. I had the same problem with my finger not being able to grip the stainless ring, however a quick 30 second clean solves problem. The stainless steel ring pops out with your finger nail (it's held in place with magnets) and if you clean the back of it with a bit of silicone furniture polish and a duster and click it back into place it works as good as the day the oven came out of the box. It's usually bits of food or dust behind the rotary controller that causes the problem.
Stunning Oven with Great Features!
I bought this oven a year and a half ago and am extremely happy with it. Beautiful design and modern look. It may take you a couple of days till you get used to the swivel button to change temperature and other settings etc but it's fun; I simply love it! I have never used the wi-fi function, therefore, cannot comment on that. You can keep the food warm, warm the plates and it also assists you with the cooking instructions if you cannot find the user's guide. For example, if you want to bake potatoes, the Assist feature will tell you which tray, temperature and time of cooking are required. Absolutely brilliant in every way!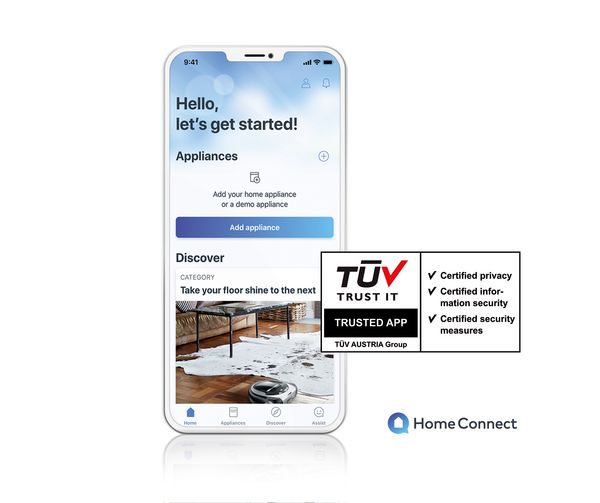 You can trust us – we're invented for life.
Home Connect uses the same security protocol as online banking so you can enjoy extra peace of mind when you're using your Bosch appliances. Our app has TUV Trusted App certification, and all of our Home Connect appliances are Wi-Fi certified by the Wi-Fi Alliance.
Home Connect is a service of the Home Connect GmbH.