Washers and Dryers with Home Connect
Let us choose the best wash for you
Keep your clothes looking great for longer
To stay at their best, different clothes need to be washed in different ways. With the Bosch Home Connect app, simply tell your washing machine what's in the load and it'll work out the perfect program. It'll even tell you if there's an item that should come out and be washed a different way.
Remote Rinse Hold
Ready when you are
We all know life doesn't always go to plan. You start your wash and that lovely sunny day suddenly turns into a deluge, or you get called away on an urgent task.
There's no need to worry about your clothes smelling musty like they've been sitting damp in your machine for hours.
Simply pause your wash with Home Connect's Remote Rinse Hold. Your washing machine will stop the cycle before the final rinse. When you're ready, start the final rinse and your clothes will come out clean and smelling fresh.
See what other customers say about Home Connect models
Beep goes on forever!
Apart from being unable to limit the number of beeps upon end of program which is really anoying,the machine is great. I want a loud singular beep, only one. Not something that keeps nagging me, escpicially when I try to put the kids to sleep. No, I dont want to postpone the program to plan for the beep to come at a more convenient time. I want a simple setting for this, easily done with a few rows of code in the MCU when programming, shame on you product magager!
The best washing machine
We brought this because of all the review we saw online And we are not disappointed ,The build quality is great well worth the price tag well done bosh Very please
Idos is great
Bought this machine 6 months ago and it's been absolutely fantastic. If there is one thing I would like to add to this model it would be a memory programme or 2 .
Great features
Bought this about a month ago, and I love it. It is very quiet, and it does not shake at all when at full speed. The best feature for me is the IDos. You just fill in the Detergent and the softner once, and then you forget about it. It just adds it on its own depending on your settings.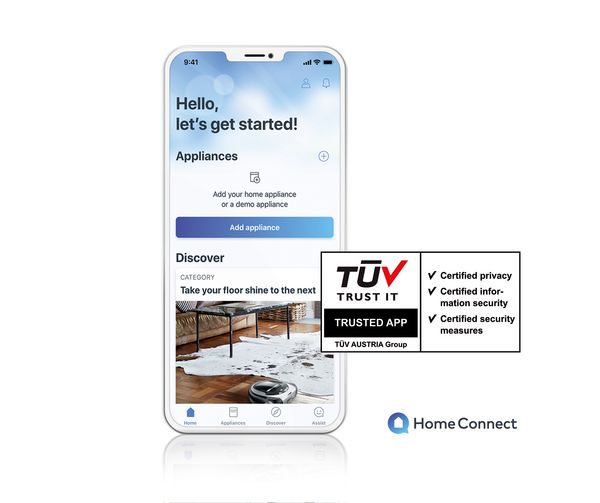 You can trust us – we're invented for life.
Home Connect uses the same security protocol as online banking so you can enjoy extra peace of mind when you're using your Bosch appliances. Our app has TUV Trusted App certification, and all of our Home Connect appliances are Wi-Fi certified by the Wi-Fi Alliance.
Home Connect is a service of the Home Connect GmbH.