Tablet top up
Amazon Dash Replenishment will automatically reorder your dishwasher tablets when your supply is running low. Simply activate Dash Replenishment in the Home Connect app and regain time spent shopping for supplies, as tablets will be automatically delivered to your doorstep. Another thing crossed off your to-do list.
Dries as perfectly as it cleans
Our PerfectDry dishwashers use energy-saving minerals called Zeolith®, which heat up when they are exposed to moisture. The warm air is then distributed evenly throughout the inside of the dishwasher. Leaving perfectly dry cupboard-ready results, even on plastics, so you'll never have to pick up a tea towel to finish the job.
See what other customers say about Home Connect models
Works very well, very quite
Bought at start of the year, works very well, only bit is you need to almost clean the drain filter every day or it chokes up and cause the machine to stop working or washing very well.
The Brilliant Bosch never fails to please
We recently purchased this dishwasher after our old one never seemed to clean everything properly. It's just excellent, sparkly immaculate glasses and even perfect baking trays from the toughest of roasts. We are seriously impressed
Worth every penny
This is the best dishwasher I have ever bought. Very well built, lots of unique design features it just looks and feels like quality. Customer Services have had little or no training on the home connect side of things. Once set up the features and benefits are amazing. Would recommend this machine assuming it's it within your budget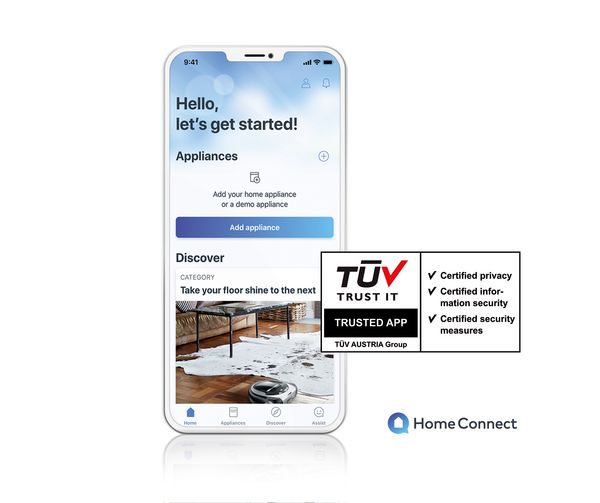 You can trust us – we're invented for life.
Home Connect uses the same security protocol as online banking so you can enjoy extra peace of mind when you're using your Bosch appliances. Our app has TUV Trusted App certification, and all of our Home Connect appliances are Wi-Fi certified by the Wi-Fi Alliance.
Home Connect is a service of the Home Connect GmbH.