TASSIMO HAPPY – THE ESSENTIAL ONE

Make your favourite drink in your favourite cup.

Adjustable stand fits all cup sizes – even tall travel mugs
Available in stylish Purple & White, Real Black, Just Red, and Crema colours

Extra savings on the Tassimo Happy until 2nd July



Shop for TASSIMO HAPPY

TASSIMO CADDY – THE TIDY ONE

Keep your options open with on-board storage!


Comes with on-board storage for 32 T DISCs
Capable of storing up to 128 T DISCs with extra holders
Available in stylish white or black





Shop for TASSIMO CADDY

TASSIMO MY WAY – THE PERSONAL ONE

Personalised drinks, just how you like them.

Extra controls to create personalised drink
Fine tune intensity, size and temperature of each drink
Available in white, deep red and black


Extra savings on the Tassimo My Way until 2nd July



Shop for TASSIMO MY WAY

TASSIMO SUNY – THE QUICK ONE

The effortless way to your favourite hot drink.

SmartStart technology – just place the cup on the machine to start brewing instantly
Available in White, Pacific Blue and Midnight Black





Shop for TASSIMO SUNY

TASSIMO VIVY 2 – THE COMPACT ONE

Small, but perfectly formed.


Compact dimensions – perfect for smaller spaces like compact kitchens or offices
Choose from four great colour options





Shop for TASSIMO VIVY 2



INTELLIBREW™ drinks capsules – perfect brewing every time.
Thanks to clever INTELLIBREW™ technology, each Tassimo T DISC capsule gets brewed to perfection, whether it's coffee, tea or hot chocolate. The capsule's barcode is read by the Tassimo machine, making sure that the size, brewing time, and temperature are right for each drink. And you can switch between different drink types instantly, as the Tassimo machine cleans itself after every drink is made!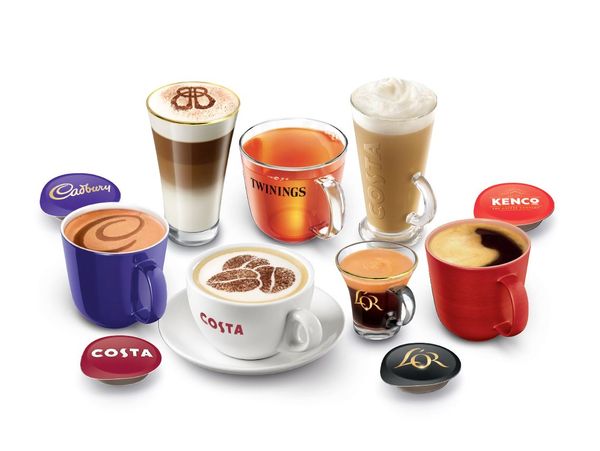 Huge range of drinks from your favourite brands.
From Costa coffee to Twinings tea and Cadbury's hot chocolate, you can choose from over 40 different drinks from the biggest brands in hot drinks, brewed perfectly in an instant. Each T DISC capsule contains expert brewing instructions in the barcode, which are automatically followed by the Tassimo machine.
Hygienic cleaning after every drink is made
The cleaning technology inside every Tassimo machine prevents flavour transfer from one drink to the next, meaning you can brew any kind of drink in quick succession. And by automatically steam purging the brewing system after every drink is made, your Tassimo machine stays in the best condition.
Recycling & Sustainability
TASSIMO cares for the environment. That's why we've partnered with The Rainforest Alliance and TerraCycle to produce our products in a sustainable way and enable recycling.
Recycle your T-Discs and TASSIMO packaging
If you live in the United Kingdom, you can recycle both your coffee pods and the packaging with TerraCycle. Living in Europe? Make sure you separate the waste. The packaging can be recycled within your local plastic recycling programme.
Explore the Tassimo instant brewing machine range.
Take a deeper look at the Tassimo machine range to find the best one for your lifestyle.