Your very own barista
When you take your coffee seriously, your coffee machine needs to be seriously impressive. With the Bosch Home Connect Coffee Machine, you get your very own virtual barista, skilled at producing delicious coffees from all over the world.
Using CoffeeWorld, built into the Home Connect app, you are able to create almost twenty superb drinks and international favourites at the touch of a button. Your kitchen becomes your new favourite coffee shop.
Playlist
Making drinks for lots of people? There's no need to memorise the list. Simply use the Home Connect app Coffee Playlist feature and get everyone to select their favourite drink.
Your coffee machine will make them all, one by one, at your command. You can even add selections from the CoffeeWorld feature for added luxury.
See what other customers say about Home Connect models
Great machine.
This is the second built in coffee maker I've owned. The first was a Neff that lasted almost 10 years. The Bosch machine makes good coffee and is fully automatic. It's a marvellous piece of engineering. The Home Connect is less useful that I had hoped while you can remotely start the machine this in practise doesn't help. You need both the cup and the milk container ready to go. If the machine wasn't already on then it will rinse itself and that will be ejected into your waiting cup. The milk container is a insulated but has no cooler so it can't be left in the machine more than a day. I can't respond to other reviews directly but I will clear up something that another reviewer said here. When the machine complains about the drip tray not being inserted properly it is probably nothing to do with the drip tray but the coffee grind hopper that slots into it. The magnet that the machine senses to ensure it's all in place correctly is in that hopper. If it is not seated properly the machine will give you a message about the drip trays. Push the coffee grind hopper firmly into its slot in the drip tray and all those problems go away. The machine is also designed to make it relatively easy to clean. The trays and grind hopper pull out easily. But so does the coffee grinding unit. It's worth pulling it out and rinsing it off each week. I hope this lasts as long as my old one did. I'd definitely recommend this to anyone who loves coffee
Best coffee
Fantastic intuitive machine . Like the fact I can turn on and have a coffee waiting using WiFi . Considered purchase but you won't be disappointed
Great coffee machine.
This coffee machine is an excellent addition to our new kitchen. Coffee taste very nice and it's simple to use. Only downside is that machine rinse itself often so few times a day I have to empty drip tray.
Good machine but one little niggle
Just installed this machine. Looks great, easy to operate and the home connect feature is cool. My one gripe is that the temperature of the coffee is controllable but when you want a latte or cappuccino the milk temp is too low and the drink ends up "luke warm". If I was in a cafe, I would return it for heating...How do you increase the milk temperature?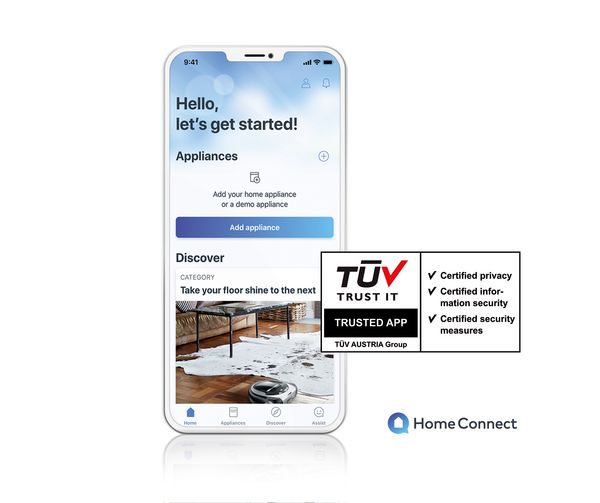 You can trust us – we're invented for life.
Home Connect uses the same security protocol as online banking so you can enjoy extra peace of mind when you're using your Bosch appliances. Our app has TUV Trusted App certification, and all of our Home Connect appliances are Wi-Fi certified by the Wi-Fi Alliance.
Home Connect is a service of the Home Connect GmbH.