Your very own barista
When you take your coffee seriously, your coffee machine needs to be seriously impressive. With the Bosch Home Connect Coffee Machine, you get your very own virtual barista, skilled at producing delicious coffees from all over the world.
Using CoffeeWorld, built into the Home Connect app, you are able to create almost twenty superb drinks and international favourites at the touch of a button. Your kitchen becomes your new favourite coffee shop.
Playlist
Making drinks for lots of people? There's no need to memorise the list. Simply use the Home Connect app Coffee Playlist feature and get everyone to select their favourite drink.
Your coffee machine will make them all, one by one, at your command. You can even add selections from the CoffeeWorld feature for added luxury.
See what other customers say about Home Connect models
Great coffee machine.
This coffee machine is an excellent addition to our new kitchen. Coffee taste very nice and it's simple to use. Only downside is that machine rinse itself often so few times a day I have to empty drip tray.
Good machine but one little niggle
Just installed this machine. Looks great, easy to operate and the home connect feature is cool. My one gripe is that the temperature of the coffee is controllable but when you want a latte or cappuccino the milk temp is too low and the drink ends up "luke warm". If I was in a cafe, I would return it for heating...How do you increase the milk temperature?
2 months of use
Ok have had this for 2 months now and quite simply love it. It is a luxury item and logically cannot be justified but if funds permit I would defiantly recommend. It does look very posh when installed! The quality of coffee dispensed is amazing. In our house we all have massively different tastes from medium latte, strong standard with a hint of milk, through to very mild cappuccino. We each have our own preferences set as a favourite on the machine with volumes and temperature set as well. A couple of presses and away it goes. The dispensed drink does not vary and is always perfect. Speed is quite slow at about 2 minutes, but it has almost become a therapeutic ritual: grinding, whirring, puffs of steam, gurgling etc and it seems very well made and engineered. To date there is nothing that seems delicate and fragile. One improvement Bosch: For all internet connected machines why does the time have to be manually entered? The best compliments: 1) Other half (the boss) was not a coffee drinker: she is now! 2) I have not had a single Costa or Starbucks. I actually prefer our coffee (we have settled on Lavazza Rossa). 3) When you come in, there is that gentle smell of fresh coffee. This is second only to fresh bread. The only improvements I would like to see are direct plumbing in for water supply and drainage although this is me being lazy. One thig to remember is that the machine does need specialised periodic internal cleaning and descaling using Bosch items and these are quite pricy. However, this does maintain the output at the highest level. This luxury item is now an essential item and if we moved, it would be missed. We even have friends who just happened to be in the area and though they would pop in and say hello and yes, have a coffee and a chat. They openly admit to being jealous. luxa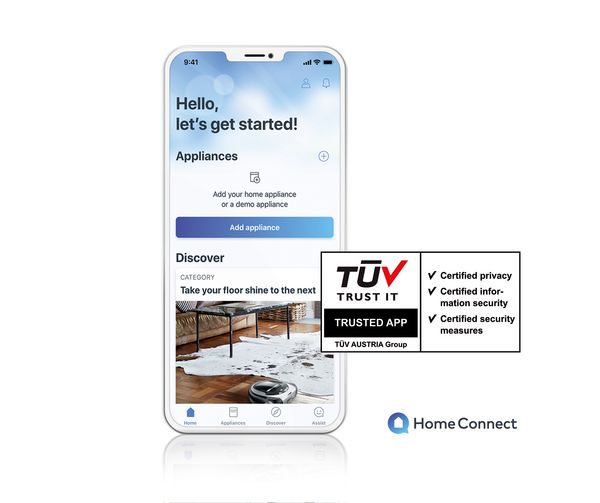 You can trust us – we're invented for life.
Home Connect uses the same security protocol as online banking so you can enjoy extra peace of mind when you're using your Bosch appliances. Our app has TUV Trusted App certification, and all of our Home Connect appliances are Wi-Fi certified by the Wi-Fi Alliance.
Home Connect is a service of the Home Connect GmbH.