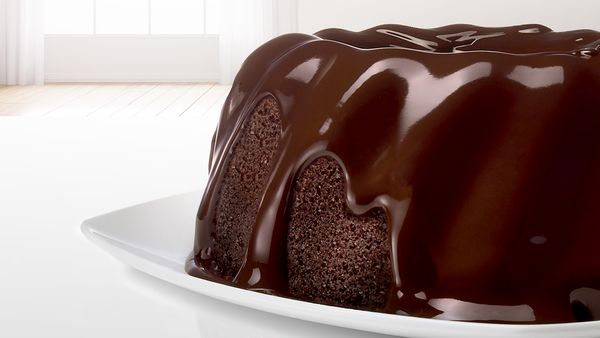 Become a master baker – at the touch of a button.
Baking has never been so simple. With our uniquely precise PerfectBake sensor, the oven measures the moisture content of your pastries and automatically adjusts the type of heat, time and temperature. All you need to do is select the right food category in the menu and press Start – the oven does the rest. The result: bread, cake or quiche that are baked to perfection.
Perfect roast on the fly.
Christmas turkey or Roast lamb– with the PerfectRoast meat probe they will be cooked to perfection. Its high-sensitivity measuring points determine the core temperature inside the roast to the exact degree and second. That ensures perfect results every time, whether you're using the oven-, microwave- or a steam oven-mode.
The first recipe collection in the form of an oven.
Often you just can't find precise information on temperature or cooking time in recipes. The Assist function for automatic oven settings helps you to get them right anyway. Simply select the desired dish in the control panel and your oven automatically sets the ideal heating mode, temperature and length of time. Every dish is a success at the touch of a button.
Perfection on every level.
With 4D Hotair you are free to put your food on any oven shelf. The result is always perfect thanks to our special fan, which distributes the heat evenly on all levels. And that's not all: With 4D Hotair, you can bake and roast simultaneously on up to 4 levels.
Full steam ahead – for full taste.
Whether it's steaming, added steam or steam cooking, many of the Serie 8 ovens have functions that let you combine the advantages of steam with those of a regular oven. For example, our ovens with steam function guarantee you juicy roasts with a crisp crust and perfectly browned bread.
Ready before you can say "Bon appétit!".
Thanks to our Series 8 ovens with microwave function, you'll have enough time for any dish. Whether you quickly want to bake, roast or just heat up something tasty, the intelligent combination of conventional heating and on-demand microwave gives you perfect results in 50% of the time. With 100% of the taste.
First we taught it how to bake. And then how to clean up afterwards.
Some of our Series 8 ovens pretty much clean themselves thanks to the EcoClean Direct cleaning aid or the pyrolysis self-cleaning function. The special EcoClean Direct coating reduces dirt accumulation during operation, while pyrolysis burns dirt away at the touch of a button. Both save you work and give you more time for the things you enjoy.
Open for your wishes.
Different people need different things in their kitchen, so we offer the Series 8 ovens with different features. Whether it concerns the interior lighting, the door or the rail system, with our ovens you can find the solution that fits you best. The only thing that's always the same are the baking and roasting results – and they're perfect.
Fits every kitchen. And every need.
Thanks to their precision workmanship and close attention to design detail, all Series 8 appliances are perfectly matched. So, whichever built-in appliances and heights you want to combine, whether side-by-side or stacked, visual harmony and unity is guaranteed. That gives you maximum freedom in planning your perfect kitchen.